In my first three weeks working at the bar, every day at least I would engage a conversation about how the guests have visited Uluru or plan to visit Uluru and I would tell them that I never went there although I had been here in weeks. But on 6th of July, I finally did the pilgrimage. Disclaimer: this blog post won't be informative enough. It will serve you my crap story as usual. The reason is because I didn't have a chance to study more about Aboriginal people which I am planning to do so. So yeah, let's take a walk then? Yep, Matt, Sand and I walked to Uluru from Yulara. It took us about 19Kms to get to the cultural centre, walked another 2Kms to the starting point of Base Walk, and walked again for another 10Kms surrounding the rock.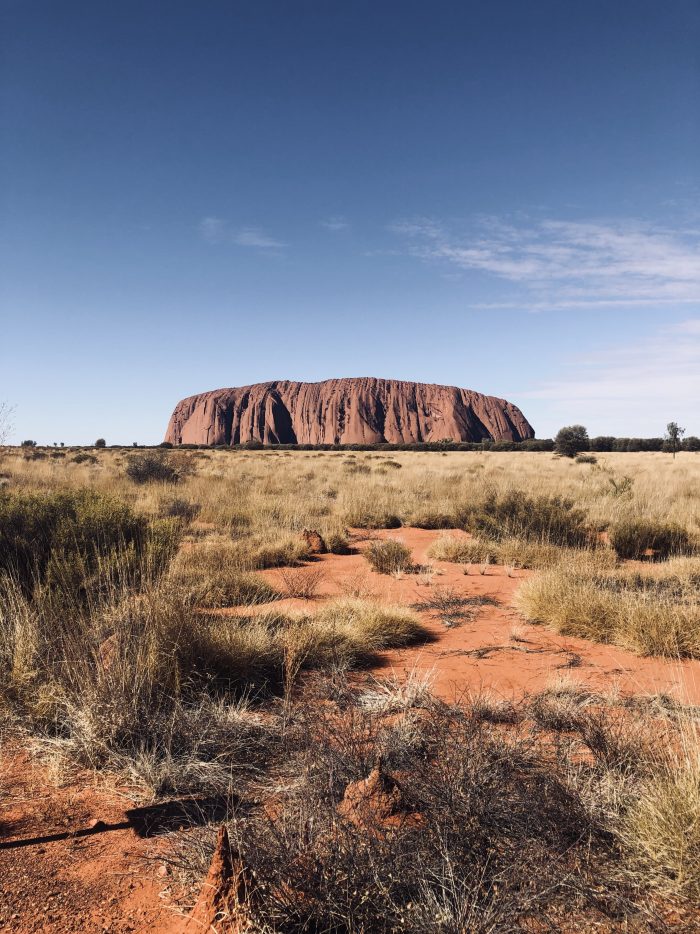 It was all started when Sand and I had the same days off; he suddenly texted me: "Let's go to the rooock!" Ofc! We thought about how to get there and he threw an idea to walk because his friend, Matt, has done it before. I was like, okay, why not.
On D-Day, we agreed to meet at 9am. As a woman, I woke up the earliest but I still struggled to draw my eyebrows in the last minutes lol! And it would took me around more than 5 mins to get to the meeting point and I literally left home only a few minutes prior and I raaaaannnn as if some perverts trying to catch me. Then what?? Matt came 10 mins later and Sand came 20 mins later and he even walked like turtle -.- lol.
We bullied Sand about it and it backfired us, no, I think it only backfired me. Sand walked so fast, how come he had that kind of energy? And Matt, he is tall so it was easy for him to match Sand's pace. Me? I HAD TO STRUGGLE xD. Sometimes I would let them be and ran to pursue them in every 5 mins. Sometimes I took the lead so I controlled the pace lol. But it was a really nice exercise tho.
Along the way, we talked about many things, fought with annoying flies, laughed over small things, bullied Sand again for being late, and me shouting "Y SO FAAAST?!" But what I liked the most about our long walk was that Matt inspired us to pick trashes along the road. It was started with 1 bag, then 2 bags, then 3 bags and all of us carried "bags" to contain the trashes, it was even overloaded and sometimes the items fell out lol. We picked valueless trashes to the wow-how-come-they-left-this-here trashes such as shower bag, insect repellent, Bluetooth earphone, Frisbee, etc.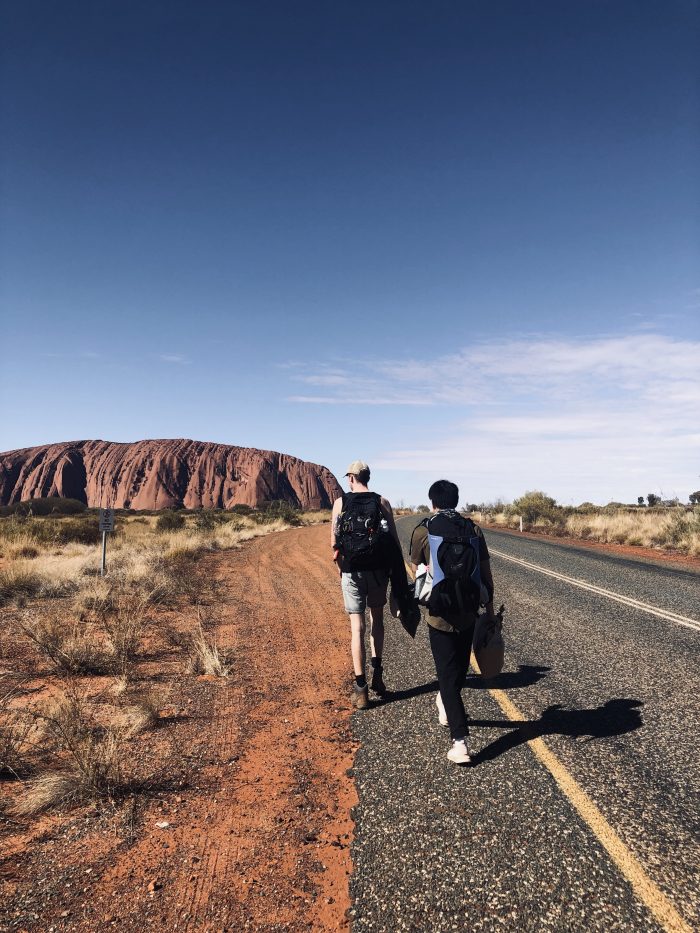 Three and a half hour later we arrived to the site; took almost 1 hour lunch break and we thought we couldn't make it to do Base Walk (walk surrounding the rock). It was only 10Kms but the board says average duration is 3-5 hours. It was 2PM already and we had to hitchhike back home before or right after sunset. We looked for another option: renting bikes. But it was school holiday and we had no chance. All was gone. Sand assured us, "I think we can make it." Then we walked again.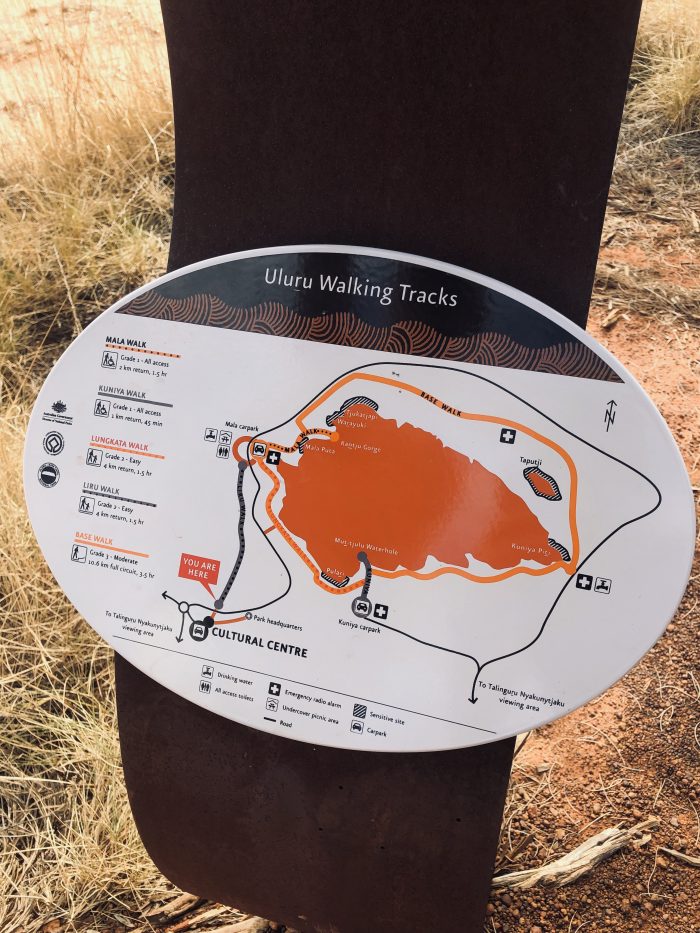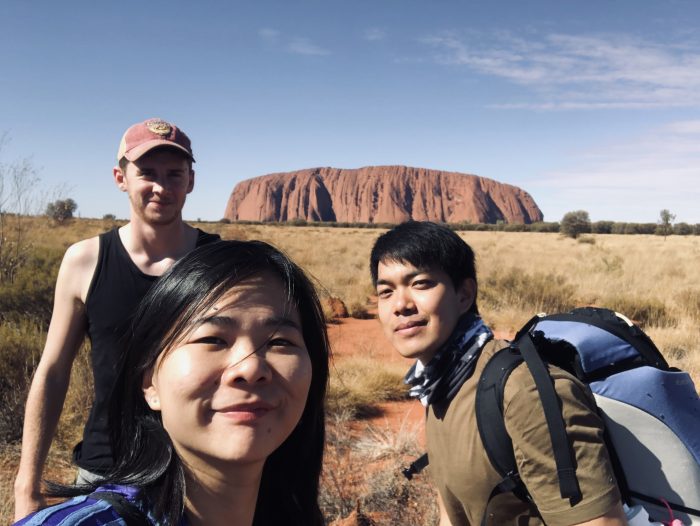 I was so amazed by how nature can provide us an incredible enormous rock like this. Actually, I've seen some unique big rocks on previous road trips: flat top and flat side so it looks like a rectangle (as if someone trimmed the side perfectly) or a huge wave-like rock. Rocks in Australia are amazing. Uluru is surely one of them; not only about the size but when I walked surround it, every face from every side of it was just amazing. Plus, it is so sacred to the traditional owners of Uluru: Anangu tribe. Uluru has been standing tall for hundreds million years and it was a place for the traditional people to cook, gather, and take a rest while hunting; a place for ancient events and ceremonies.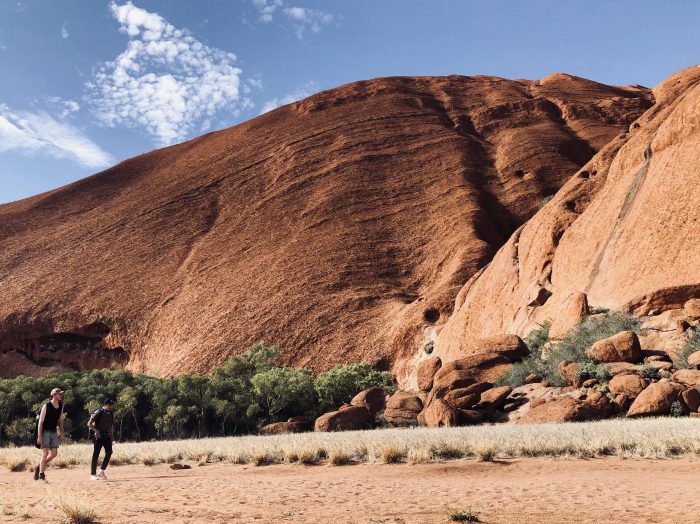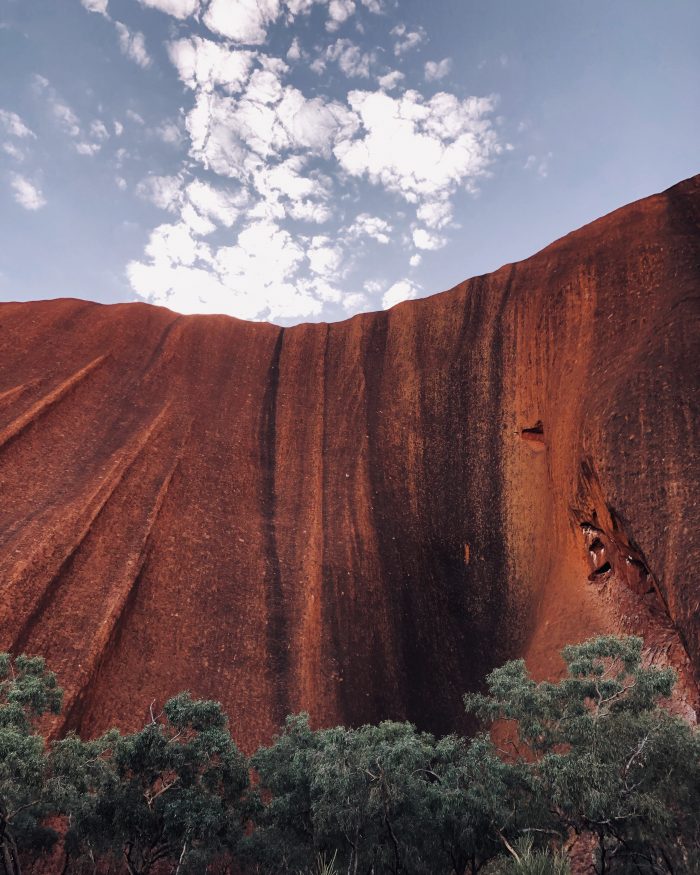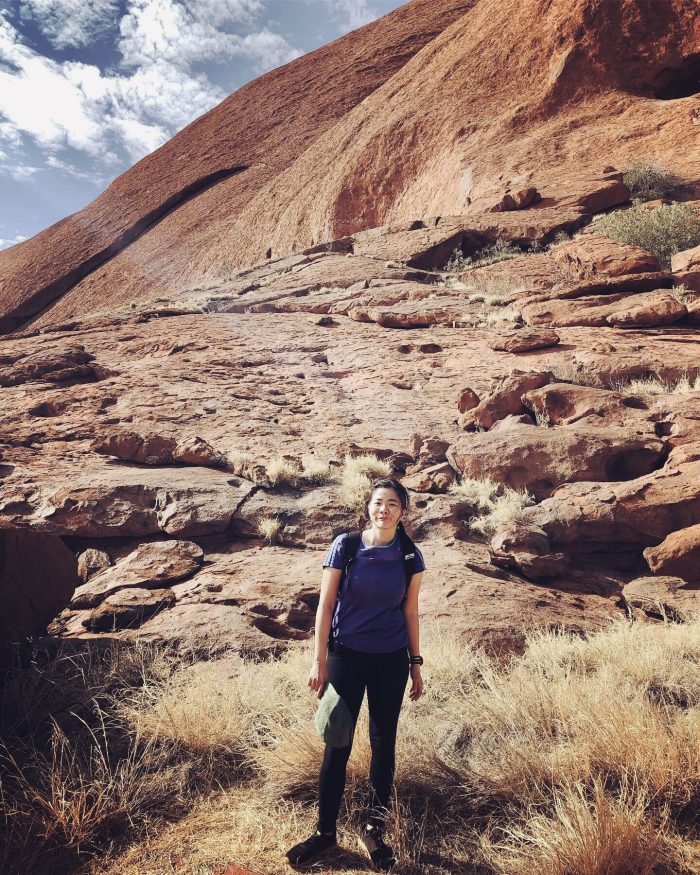 To me, someone who just took a walk quickly; as a tourist, I could only be the observer of this beautiful giant. The rock will be closed to climb in October because of safety and respect issue and so many people came down here to seize the opportunity.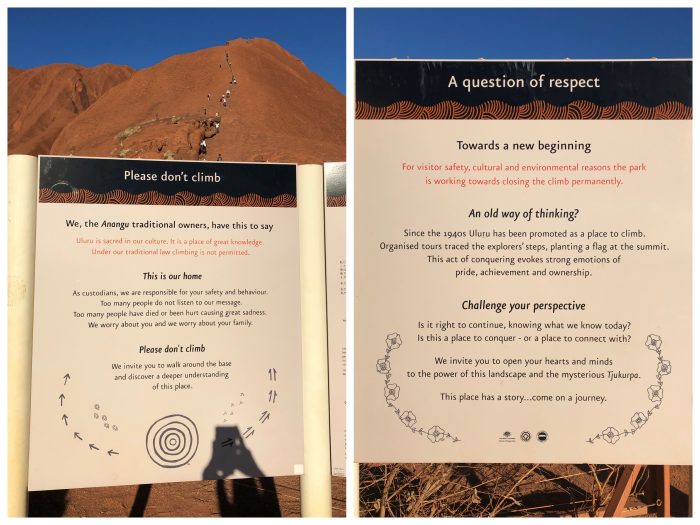 I was one of them who wanted to climb but then Sand opened my mind, that climbing is seen disrespectful to the owners. And actually it means much more than that; it's about how not to conquer the rock because there's nothing to conquer to begin with. It's about not to feed your ego with glory when you hurt the owners at the same time. And now, I also need to be careful not to build a "good person" ego while writing this (if you know what I mean) lol.
Hopefully I visit Uluru again, listen to the story from the guides or study more. Let's finish this story first. So, we wanted to hitchhike although we knew it would be almost impossible to find a car that could carry three of us. So many cars ignored us until a car came and he said he could only help a person and that would be Matt. Sand and I were worried how long it would take us to find the next kind-hearted person. Not long tho! A car after Matt's left, we found our angel, he was a ranger, Adam, and he helped two of us. Adam had to finish the job first so he dropped me and Sand at the sunset viewing area while waiting for him to pick us up home. And the waiting moment was beautiful; it was a perfect ending of the day. Can't thank you enough to those three men. More journey to come hopefully?