Since I have finished my six-month job in Perth and I had to leave Perth, one of the last things to do was to visit the Southwest with Rusi. We had been dreaming to go there but never got a chance (or never tried to really make it). Finally we've got friend to go and share the cost with lol.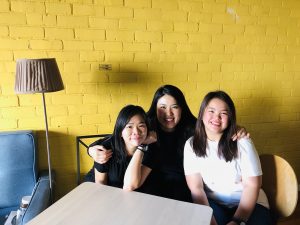 I was the sole driver for 2071 Kms in total for 3 days and I couldn't believe I could safely bring us home; but believe me, driving in Australia is safe and easy compared in Indonesia. You just need to make sure not driving (too) tired.
DAY 1
Destination: Esperance
Place to sleep of the night: Pink Lake Tourist Park
It was a nice drive tho! I really liked the trees covering the side of the road. That day's destination took us around 8 hours to get there so we didn't really explore much because we need to be there not too late. We took a break in Corrigin, a cute town who really treasures dog so much. We passed a beautiful dog cemetery, dog statues at the park and we even spotted a veterinary center.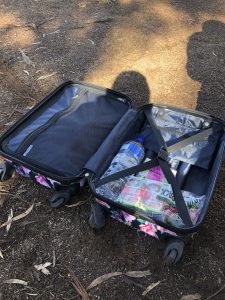 Then we passed a famous spot in Hyden, The Wave Rock.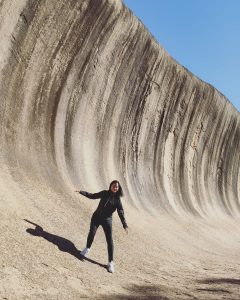 Based on the information center, Wave rock is a 15 meters high granite cliff and the shape has been caused by weathering and water erosion which have undercut the base and left the rounded overhang. It left me in awe, such a unique shape that million years of erosion can make. We continued the journey and enjoyed the sun before it set for a while.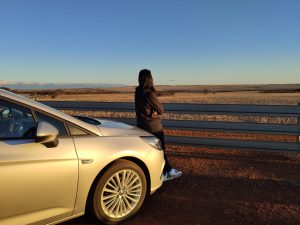 I was driving Holden and I just realized that I didn't know how to turn on the light lol. Couldn't spot the button or handle at the usual place in other cars and it took me a while to realize where the setting was xD. Anyway, we finally arrived at the tourist park at 6.30 pm, almost got no space to sleep because the office closed already lol but thank God, we made it. It cost us $49 to sleep at the unpowered site. We slept in the car, three of us. Yep, in a sedan.
DAY 2
Destination: Lucky Bay and Albany
Place to sleep of the night: Kalgan River Caravan Park
We woke up early morning so we could catch the sunrise but too bad, the weather wasn't cooperating. There are so many beautiful places at the coast in Esperance and we managed to visit some of them. It was so beautiful, so quiet, and cold definitely.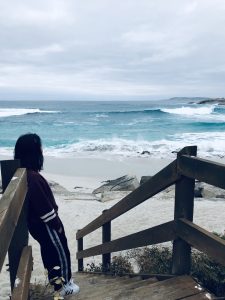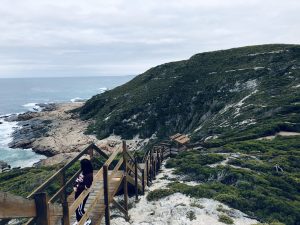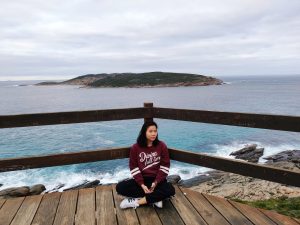 Then we continued our journey to Lucky Bay at Cape Le Grand National Park, hoping we could see kangaroos at the beach. It should've taken us around 40 mins to get there but we took a bit longer since we stopped by at some spots, looking at cute cows. So many farms around there and the view were magnificent!
The price to get into the national Park was $13 for a vehicle and actually there's a caravan Park at Lucky Bay too but you need to book beforehand. It was cloudy and raining when we got there but it didn't last long tho. We burst to the beach after that and omigoooooooshhhhhhh Lucky Bay is really really beautiful.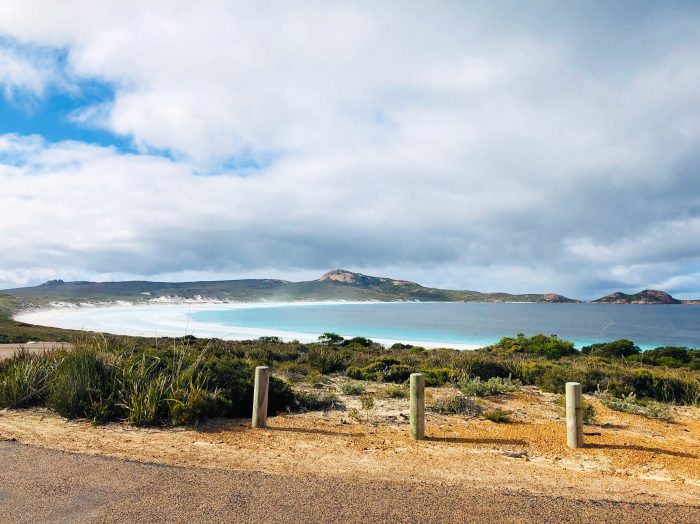 I put off my shoes and touched the water; the sand also feels different. When I tried to write in the sand, it sounded like scratching nylon fabric and it kinda hurt when you ran on it lol.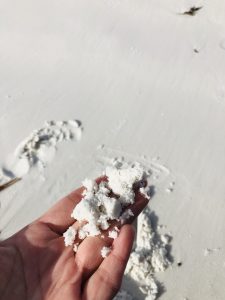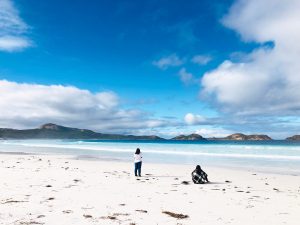 The sand is solid as a whole but so soft when you pinch; confusing. We took so many pictures here but we weren't lucky, no single kangaroo on sight.
We had lunch at the Pink Lake which is not pink at all (well, it used to be) and continued the trip to Albany. Another endless beautiful farms view but Yerin slept most of the time lol. We finally reached the caravan park before 6 pm but it was so dark already. The park was located quite far off the main road but kangaroos visit it daily! We couldn't wait!
DAY 3
Destination: Albany Wind Farm, Margaret River, Perth
First things to do in the morning: brekkie and see the kangaroos!!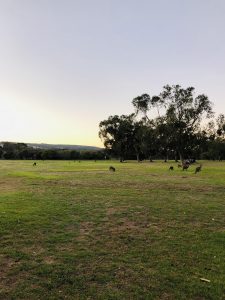 So many of them and they were so cute! Rusi and I tried our best to sneak in and took picture in quiet but Yerin was shouting in excitement. She probably scared the kangaroos but she was lucky not to be kicked lol. To me that was the best caravan Park I've visited so far: cheap, pretty, near valley and by the river, so many cute creatures.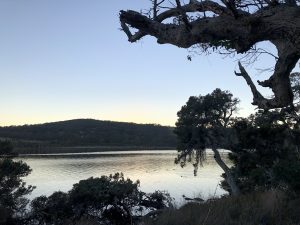 We then continued the trip to visit Albany Wind Farm, that was my first time seeing so many wind turbines and we hiked a bit to get to the lookout and we could see a forest in one side and a bay in the other side. So beautiful.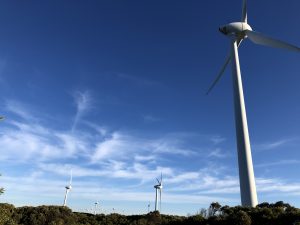 Yerin wasn't feeling well and Rusi let her sit beside me hoping she could get better by looking at the beautiful views from the front seat but she dozed out again lol. Seriously, Albany region has TOO MANY BREATHTAKING view of valleys, farms, cute houses, and greeneries.
Then we passed Denmark and omg :'(, the town won several awards such as..i forgot. But Denmark is too pretty and I will come back there to explore the town. Can I get a job there in my third year visa? 😉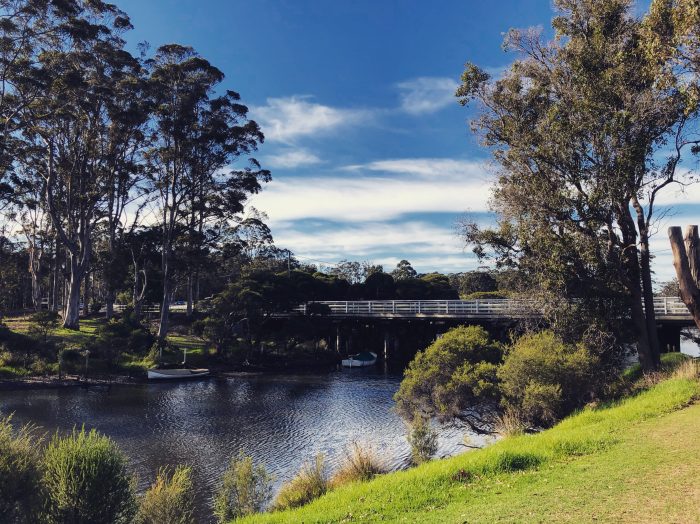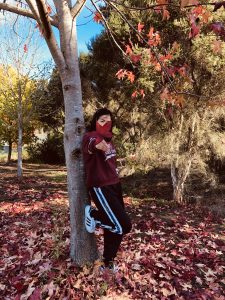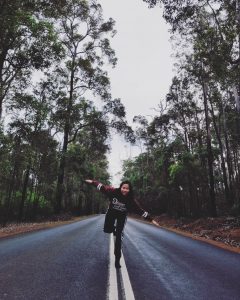 Managed to visit Margaret River for an hour and bought a wine as farewell gift for my manager.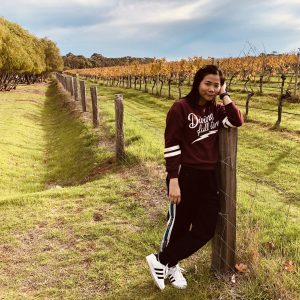 Luckily Yerin felt better and she continued talking to me that I had to make her stop lol. However, you saved us to get home, chingu-ya, gomawo. Finally, we made it to the Southwest and it was a super nice trip, one of beautiful last memories in my last days in Perth this year and I'll never forget.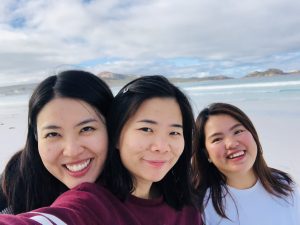 Thanks to you guys, I have so many pictures of me xD ♥️