Hello World! I'm back again lol! It's kinda weird to write something from a journey that happened 3 months ago, IT'S SUPER LATE! I know! I know lol. Things happened but here I am, laying in bed and writing at a the most proper time. Let's just get started!
---
On the previous blog, Messi and I were done with our trip together with Bang Adjie and Kak Nancy. We had so much fun in Lembata and Larantuka and time to part had come. Messi and I continued our journey to Kupang and to me that was also one of the most valuable moments in my life!
I always like driving, both motorcycle and car; since I spend my time mostly riding motorcycle so yeah, my skill is upgraded from time to time. When I was riding in Lembata and Messi was sitting behind me and we talked about a family who rides from the east to the west of Indonesia. Somehow I liked the concept and it must be awesome to do the touring! We also watched The Motorcycle Diaries (2004) and we loved it. Well, we're not Ernesto and Alberto who ride for a long time and experience things that change their lives completely. We're just two city girls who rent a scooter for 100k rupiahs for 2 days and had fun in Kupang.
May 12th 2017
Touched down in Kupang at around 5 pm. We took a cab and went directly to our homestay. We got this recommendation from Bang Adjie; our room was so cheap and since Messi and I traveled on budget, we agreed laa. Our room has no AC but it was nice and clean enough (except the toilet). Anyway, I thought Kupang would be hot because it's located in eastern Indonesia too. It's near Lembata so I thought they must have the same weather. However, it's surprisingly not hot and not humid as well, I just felt like I was in my hometown! The ambiance of the city was also like another big cities in Java. We also didn't find any unique places that sell Kupangnese foods; they were all quite the same as Jakarta: nasi padang, warteg, soto lamongan. Ah, there are so many transmigrants from Java so, well, I felt quite homey yet I expected something more unique and sooo Kupang.
Anyway we met the landlord and discussed about things as well as the recommended places in Kupang. We then decided to visit Kolbano beach on the next day. I immediately opened G-map and saw the duration: around 3 hours driving. Well, yeah, affordable and not hard to do that; I said to myself. We agreed to rent a scooter for 1 and a half day from Om Stev; a tukang ojek nearby (cool name huh xD), and we agreed to start tomorrow morning before 9am.
May 13th 2017
I woke up lazily so I took a bath first to freshen myself; Messi was so hyped and she showered quickly after me. While I was waiting for her, I opened G-map again and took a closer look and studied the map. Then I realized one thing: THE DISTANCE! Yeaaaaa, yesterday our landlord also mentioned that Kolbano was far from our place and yeaaaaaa I saw the map slightly and agreed to bear the duration. But that morning, I was completely sane and aware about the place we were about to visit. Kolbano beach was located 149 KM far away from our place and we would go there by scooter for around THREE hours and I was the only one who would drive! WTF lol!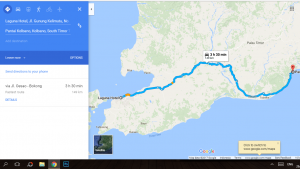 Earlier on the previous night, I stupidly imagined driving a car for 3 hours and I didn't find it a trouble because I am used to driving that long in my hometown. And that morning I also realized 3 hour driving in Jakarta is NOT the same as 3 hour driving in Kupang xD. In Jakarta, you can drive 50 km for 2-3 hours because of the traffic jam. I googled Kolbano Beach and looked at it carefully while considering if it was worth it to visit lol. The pictures were so tempting but I was still in doubt so I tried to discussed it with Messi. I talked about it to her, not a clear one, I used codes to tell her that I was not really okay to ride that long and that far; she didn't seem get the codes so hell yeah, just bear with it and break a record! *slapped my face*.
We were heading to the direction to Soe; the road was smooth, no traffic jam, nice weather and nice view along the way! I completely forgot how doubt I was and enjoyed every seconds instead! Since we were not getting used to Kupang area, we thought it was better to be back at our place not too late so I managed the time and was speeding up from time to time. When the road was nice enough, I drove fast; around 80-110 kph. Second record, lol! Messi was quiet along the way but I'm sure she didn't even freak out at once. It was so fun even for the riding solely lol, we had so much fun and experienced beautiful little things before we finally arrived at Kolbano Beach.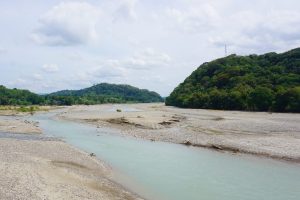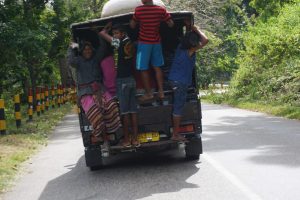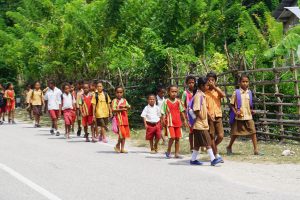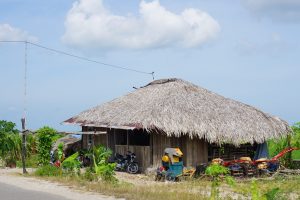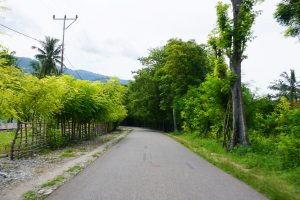 Kolbano Beach was soooooooooo beautiful! There were no sand, just beautiful small rocks and the sea color was so tosca. I really really really really loved it!!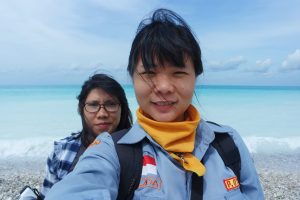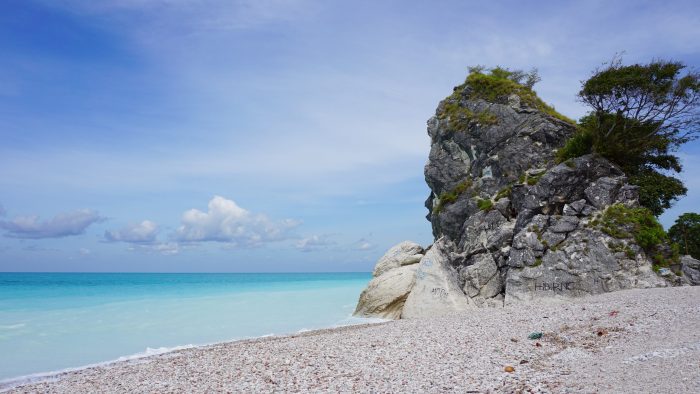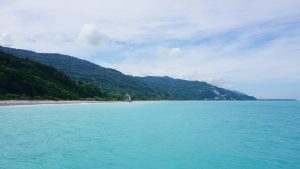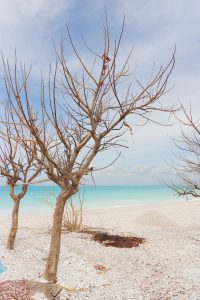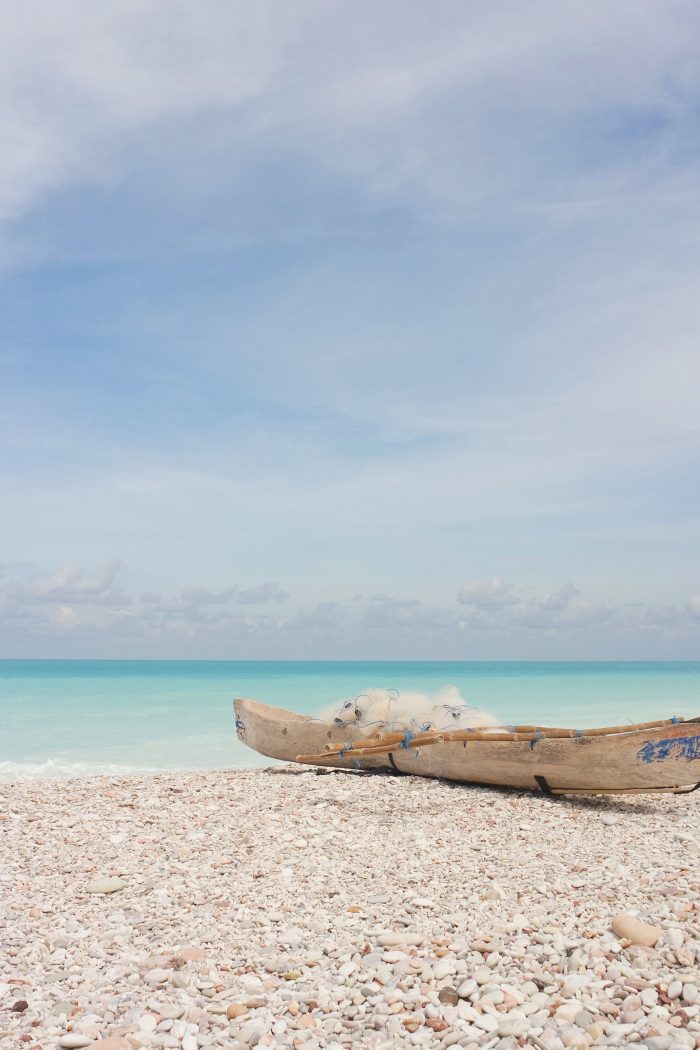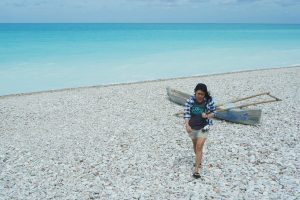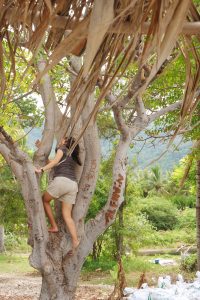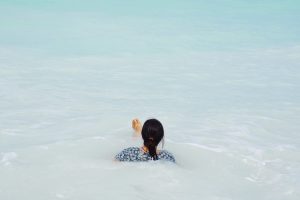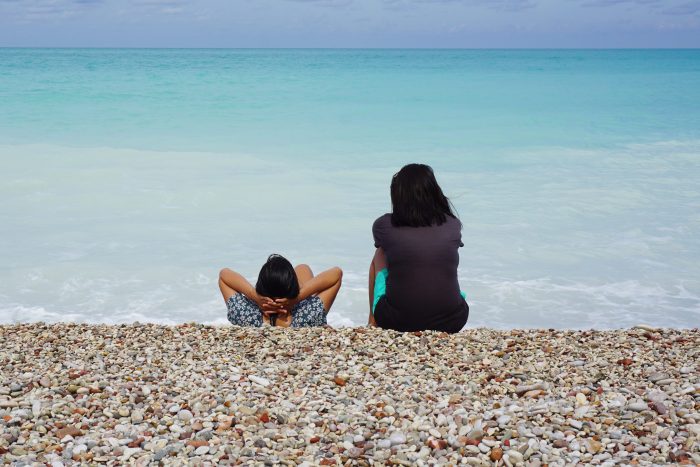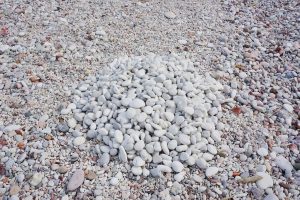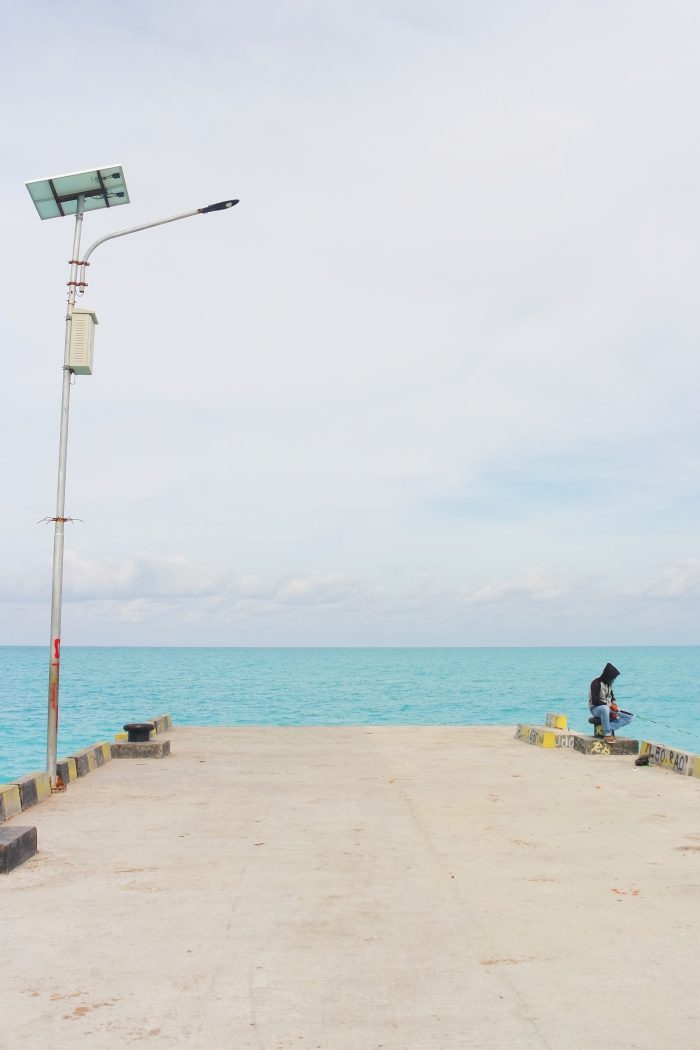 We supposed to get back to home at 1pm but we played with the water again and again lol! Too fun and too short! We then left for good at 2pm and I drove very fast to avoid the night. Earlier in the morning I thought I would be very tired on our way home but it wasn't that bad! Since Messi was so light, I felt like riding by myself and didn't feel tired because of the weight, plus, the scenery was great and that what helped me the most!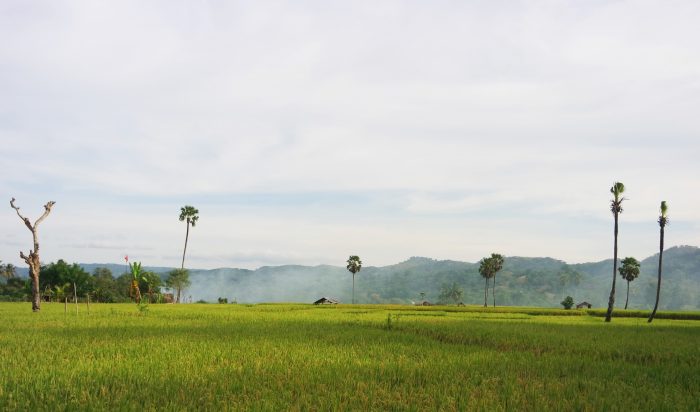 We were riding super fine until something happened. We heard a dragging sound from our scooter and holy crab, the exhaust cover got loose that it was dragged in one side. Since I couldn't find a lock nut to put the cover back on, I thought it would be easier to loose the other side. Nevertheless it was useless tho since the lock nut was stuck and I couldn't find any key to proceed it. We spent 10 minutes there until a kind man came and told us that we had passed a workshop and it wasn't far so it'd be better to go there. I nodded but I was still confident we could solve this by ourselves so he helped us for another 10 minutes until we finally gave up. He together with Messi then rode the scooter to a workshop nearby. I was quite worried this 'incident' would make us arrived home late. We promised Om Stev to be at homestay at 6pm and I also didn't want to drive at night in an unfamiliar places and the scooter lamp was even out of order. Anyway, less than 10 minutes later Messi and our savior came back and omigosh. Why didn't I agreed to send it to workshop earlier?!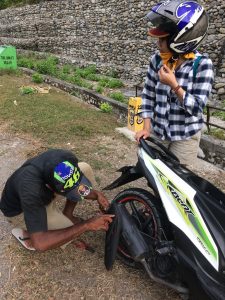 We finally arrived at homestay after having more than 4 hours ride with total distance about 300 KM. It was tiring but super fun! Messi was a great companion tho, unlike other female friends, she notices the signs, paths, and she was like my co-pilot. I would love to do this again with her!