This is the decision that I have made since last year when I felt stuck with my job. I was planning to do bigger thing in somewhere further but meanwhile I'm spending my time here in Bali.  Did my family worry about me? Of course they did! To them I was like a girl with blurred vision or like a cloud floating in the sky, lol! But I was so confident that I could do this and soooo excited weeks before my departure. However, change will always scare you and the scariest moment is when it's about to get started. I felt a serious butterfly in my stomach several days prior my leaving. My head full of thoughts like: What if I fail? What if I can't survive? What if I don't like the lonesomeness?
Thankfully, I got friends to talk with, parents and some of family members who supported my decision. I thank them for seeing me with an open mind and for understanding me that I need to pass this phase.
I arrived in Bali on Friday and since I'm really on the tight budget I tried to find anything cheap! Cheap cheap cheap! Lol! Let me tell you the amazing things happened on my first day in Bali.
PLACE TO STAY
I have heard about Couchsurfing app from a long time yet I never really used it until a week prior my leaving. Unfortunately it was so hard to find a host! I have tried to request to some possible hosts but no one responded. Just minutes before boarding, I finally used Agoda app. I swipe leeeeeft on the price range filter and tadaaaa! I found NAU HERE HOSTEL for only IDR 45k (before tax).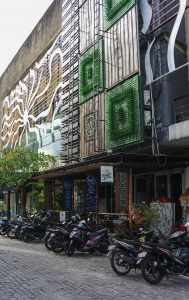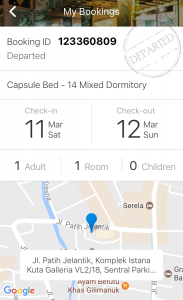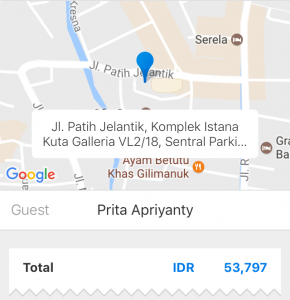 It's located in Kuta Central Parking and I can say it's a very nice place to stay! Not to mention the cheap price as well as great service that makes it worth staying, it's also located in the perfect place. The hostel is around 15 km from Ngurah Rai International Airport and only needs mmm, not sure but maybe 10-15 mins driving with GoJek (I used GoRide and the trip only cost IDR 21k). It's not really close with bars area like in Legian but you can reach there on foot like around in 20 mins. Good exercise tho.
What do you get?
A clean and nicely decorated capsule
Free wifi (not so strong)
Towel and blanket
Clean toilet and shower area
Breakfast included
Many books to read
Load-as-many-as-you-wish drinking water (IMPORTANT)
The sanitary area is also inside the bedroom. There are 14 capsules in the bedroom (This is the cheapest option) and there are 3 toilets and 3 shower rooms so you don't have to barge in when you are so kebelet lol. From my experience, even though the capsules were fully booked but the traffic in the bathroom wasn't high. Lol!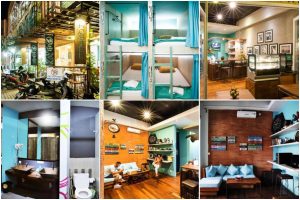 FIRST PLACE TO VISIT
What else? Kuta Beach of course.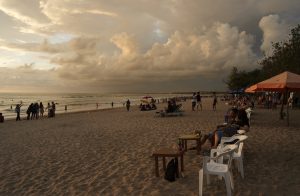 I think I was kinda bored to be in Kuta Beach because the last time I remember, the beach was dirty, too many people, too many transmigrates too. As I was heading there on foot, a stranger with motorcycle asked me if I wanted to hitchhike since he also headed to Kuta. He asked me using English and I was so confused at the first time. He laughed when he found out that I was Indonesian, he thought I was a Japanese, lol! Dude, have you ever seen Japanese girl with piggy nose like this??
He was Bang Toti, a Batak guy who quit medical school who is now become a surfing instructor and lifeguard in Kuta Beach. He accompanied me to watch the sunset and he was so kind to let me get 2 hour surfing lesson for a very cheap price. I'm sorry Bang Toti, I couldn't make it, no budget to surf.
Anyway, this was the sunset view in Kuta that day. So great!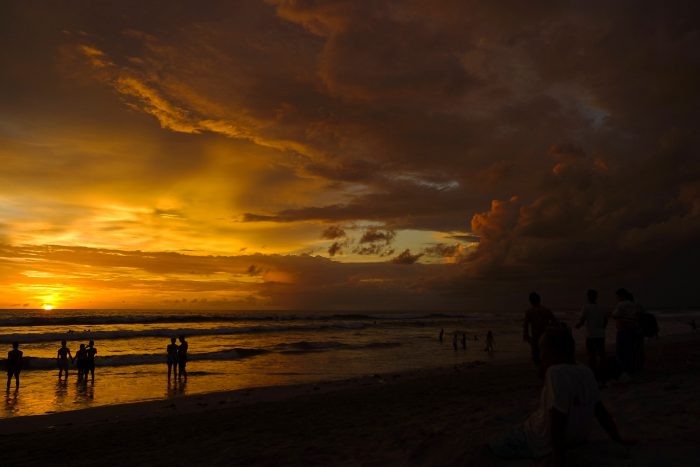 HANGOUT
A guy from Couchsurfing app informed me that there would be a weekly CS meeting in Kuta. I checked on the map and it was surprisingly near my hostel. I didn't have any reason to say no tho. Before that, I had dinner in a small cafeteria; it sells Nasi Bali for only IDR 12k. Not sure the normal price but I think it was very cheap because I got many pork in it. Anyway, there were about 15 people attended the meeting. Most of them were Indonesian and some are foreigners from Holland, Malaysia, US, India, Canada and Mexico. We gathered on a long table and I thought it would be more formal but in fact, it was more like having conversations with small groups. I was the second attendant who first arrived; nobody was there except me and Nur, a girl from Central Java. Not long after that, a couple from Canada joined us and we started to have a very fun conversation. It's very common for people who come from 4-season countries to spend 3 months in winter for holiday. I was confused about what happened to their job actually. If they have a formal job, there's no way you can get day off for 3 months! One thing I forgot, they can make a living from casual job too. Plus, their currency helps them to survive longer in Asia, as well as in Indonesia.
What impressed me the most was our conversation with Javier, a Mexican guy who joined us later. Before visiting Bali, he traveled to Lampung to accomplish his ultimate reason to be in Indonesia: to visit the exact opposite coordinate from where he was born. AMAZING RIGHT??? The concepts itself was already interesting, but believe me the whole story is soooo crazy because the destination is located in the sea, 4 km from the land which has no public road to access, plus it was a restricted palm-oil and sugarcane plantation area! He didn't do that alone, he met destined companions, Bandar Lampung male teenagers which he will never forget. I was soooo impressed and amazed about how traveling can be so cool like this! He also shared information about how he earns money to support his traveling, something I'm so eager to try! It's to be a community management staff, a.k.a social media engagement or virtual assistant. Digital area really helps us to work remotely! The only thing to do is to learn and be consistent. It may sound easy, but everything takes a lot of time and dedication.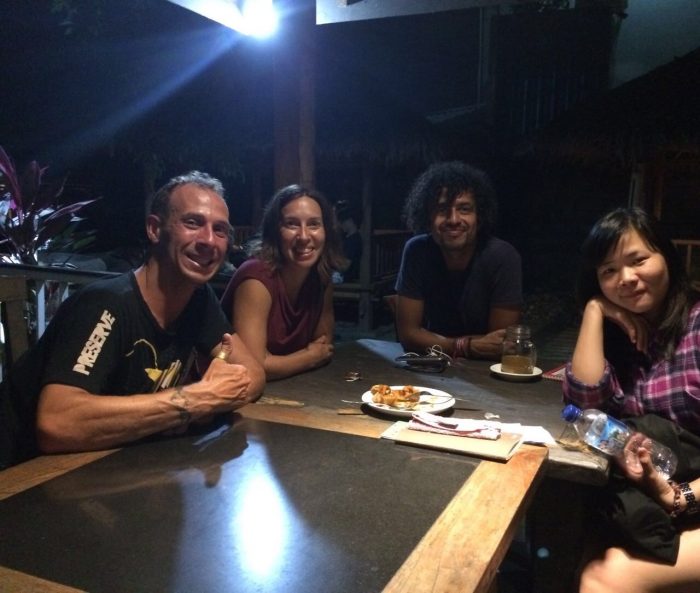 It was so much fun to attend the meeting, I also had the chance to know some locals who were really kind to help me find a job here or at least to share information about where to go in Bali. I can't wait to walk further!
Love ya!