People don't take trips. Trips take people. – John Steinbeck.
It's what Messi and I exactly feel! We are still amazed until right now and still wonder how lucky we are to have done the trip to Lembata. Continuing to the previous story, Papa Oli and Mama Gita are the biggest reasons we consider ourselves lucky. I am sorry in advance; there are details of gratefulness we can't share (although we're dying want to). Some precious moments are meant for Messi and me to keep. Besides, if you are destined to go there you'd probably think it's better to have your own personal experience in enjoying kindness from Papa Oli and Mama Gita. Everyone's different thus let's keep our blessings special.
"I've never received a love like that to me before. No one ever treated me like them before." I said to Messi tearfully on the night after we left Lembata Island. We cried, again. It was our first time to experience such a life-changing moment. We knew we just have known Papa Oli and Mama Gita for a quite short time, we've never known how they were before. But our hearts knew best, conscience senses better than brain, and we knew that they were a truly kind couple. True altruists.
Have you ever felt overwhelmed by love and kindness from someone who doesn't really do any particular act? We found it in Papa Oli. It was so strange. I even felt so happy without any clear reasons when he asked me to sit beside him, called my name, smiled at me, and touched my shoulder when he encouraged me. He was the most selfless man I've ever met in my 27 years of life. I've met some 'influencing' people; they carry their own charity organizations, their religions; they tell everyone how good they are in their religions and what they have done to contribute in their religions. They become public speakers, trying to make a change to other people, and eventually people will be moved to buy their books, videos, etc. Yet, sadly, when I get to know them deeper, I know who they truly are. More precisely, my heart knew from the beginning that there was something different behind the self they show to others.
Papa Oli has been working for Taman Daun for 30 years and it's still slow moving. I hope you can guess why. Yes, as I said in the previous blog, he works in silence. He doesn't let his noble intention forming another ego: ego of a good Oli. All the greatness of Taman Daun that I heard told by Bang Adjie; just like me trying to promote Taman Daun to others. Papa Oli was there when we listened to the story; he just smiled, laughed, and occasionally joined Bang Adjie. These young people: Bang Adjie and John S.J were the ones who tried to promote it on the internet. Papa Oli has a Facebook account and a cell phone, but they are also managed by his daughter. He simply doesn't care about those things. He enjoys taking care of children. He is so down to earth, he never talks about his greatness; he serves best, and he gives a lot. He doesn't wear sandals; he lets his feet touching the earth.
Mama Gita is also the same. When she taught us doing tenun, she always said 'pardon me' before she interrupted and corrected us. And she was sooo patient teaching us. Even when we screwed up the pattern, she said 'that's fine'. She also has a serving heart. She cooked for us and made us lots of breads to keep our stomach full when we were about to go Pulau Siput.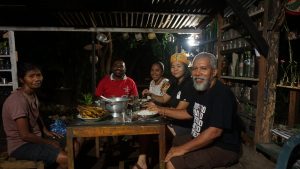 I heard from Kak Nancy, there once a day when Kak Nancy woke up at 4 am to take over Mama Gita's role to prepare breakfast for a group of volunteers. Kak Nancy was concerned about Mama Gita's health. And you know what? Hot tea was even already served at 4am :'( Mama Gita always hugged us tightly every time she greeted us, not merely as basa basi, she hugged with her heart.
Papa Oli and Mama Gita are a perfect match to each other. Both understand about the Lamalera ancient tradition that even when Papa Oli told us a story, Mama Gita would add and vice versa. They did that in a perfect rhythm that didn't sound like one interrupted rudely each other. Papa Oli also looked at Mama Gita with smile when she talked. They are old by age yet sometimes still teased each other. They always escorted us far to the front when we went home.
Time to part came. We would leave Lembata on Thursday morning so we spent some time at Taman Daun on Wednesday night. Suddenly, Papa Oli came into a room before he headed back to us and said: "These are for you…if I'm not mistakenly stealing (information)…" He gave Messi and me wood necklaces, carved with our Palada number. He must have seen our numbers on our shirts from the first day we came!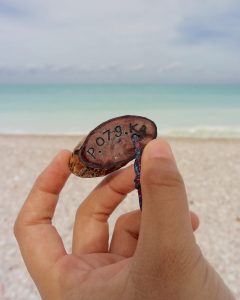 He said the gifts were for us, girls who concerned so much about nature and he said we were special. We were so surprised and so touched. We got so much that night and we tried to contribute too, even though our efforts would never be equal. Later, I aspired that I would come back again to Lembata someday. Papa Oli and Mama Gita said "Pasti." at the same time. Definitely, they said. We talked much that night and we would come back again in the following morning to say good bye.
And morning had come, we paid a visit, short one, around 15 mins only. They gave us another gift, a gift that was so special to us and oh my.. Messi and I couldn't stop saying thank you and we tried so hard to hold our tears. Lastly, I started to hug Mama Gita and she said words indistinctly while hugging me, perhaps a prayer. She later looked at me and marked a cross on my forehead. I started to cry yet I tried so hard to resist. Then I hugged Papa Oli, he prayed for me and crossed my hand while shaking hand. He did it while looking me in the eyes and I felt the love from those eyes. Messi started to cry hard that I finally failed to act strong. It was a very touching moment to all of us. We were all cried and we were very sad we had to go.
While I was walking out, I rang 3 bells at Taman Daun. They were believed could grant our wishes. I have rung them a few times before, wishing things for my own. That morning before we parted, I rang them again and I sincerely wished that they will still be healthy when I meet them again. Messi and I were ready to go while Bang Adjie and Kak Nancy had departed; maybe, they gave us one last chance. We waved our hands to them, with eyes full of tears. They said go and don't look back.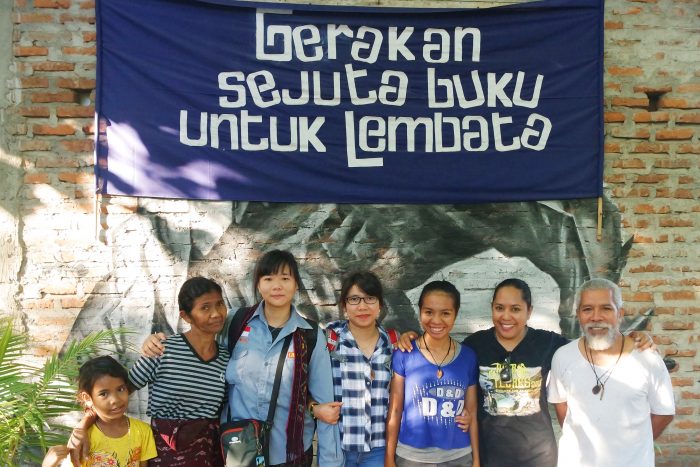 I'm crying again right now :'(
We became silent on our way to Larantuka while we crossed the sea. It was dramatic and I couldn't help it. I am always true to my feelings. I spent some time to sit alone on the front deck and I was so grateful about everything. I flash-backed about Taman Daun and I said to myself once again: I.WILL.GO.BACK.
On that night when we were about to sleep at Kak Nancy's house in Larantuka, I discussed again with Messi. We were asking what made ourselves special and wondering how they could effortlessly inspired us to be kind, like them. They didn't preach us, didn't lecture us; they simply effortlessly taught us about love and compassion just by being who they were. They inspired me to be a better person, reminded me to be selfless (which I will keep trying to train myself, not easy), and they inspired me to be down to earth and has a heart that serves. We cried again and Messi hugged me. Oh well.
I'm still so young, and so is Messi. We'll keep practicing and won't forget to be happy too. Whenever I felt down, I touched the necklace from Papa Oli; and I knew…I'm loved.
We deeply thank Bang Adjie and Kak Nancy so much again and again. Kak Nancy cooked and did a lot for us. We thank Bang Adjie, for hosting us at his house, for accompanying us everywhere, and for washing our clothes with washing machine in so early morning. We thank Bang Adjie's parents for letting us sleep there, made the room ready, for the breakfasts every morning. We thank Kak Nancy's family for doing the same.
All these precious memories will forever be cherished. Even if we can't pay back, God will.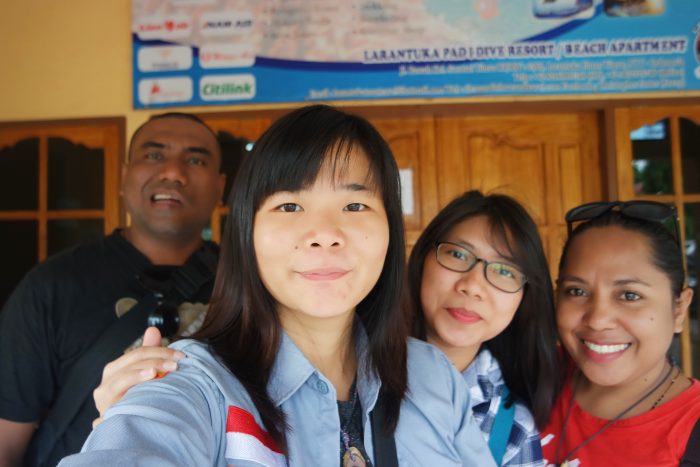 Thank you so much.
Vaya Con Dios and till we meet again.