Reading is a window to the world. Imagine life without books, without information, how would your life be? I've never truly conceived it until just now.
We visited Taman Daun on our second day when we had finished exploring Bukit Cinta and Bukit Doa. As we got there, we were greeted very warmly from an old man whom we later called Papa Oli. We were quickly introduced about Taman Daun.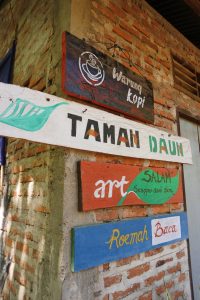 Taman Daun is a place designed for children to read and to relax. The idea came up with a very thoughtful intention, to provide various of books for children since the access to read books was very limited. Lembata Island is bigger than Jakarta, yet there are no bookstores like here which we can find in every mall. And you know how many malls in Jakarta. Imagine there is an island which has no privilege the same as we have here and there are brains which are probably much smarter than us? All they need is the access to get education, to receive knowledge, and I believe there is at least somebody who will grow up to be such a great person. Imagine.
This man, Papa Oli, provides it. He, together with his wife, Mama Gita, built a place for children to enjoy their after-school time.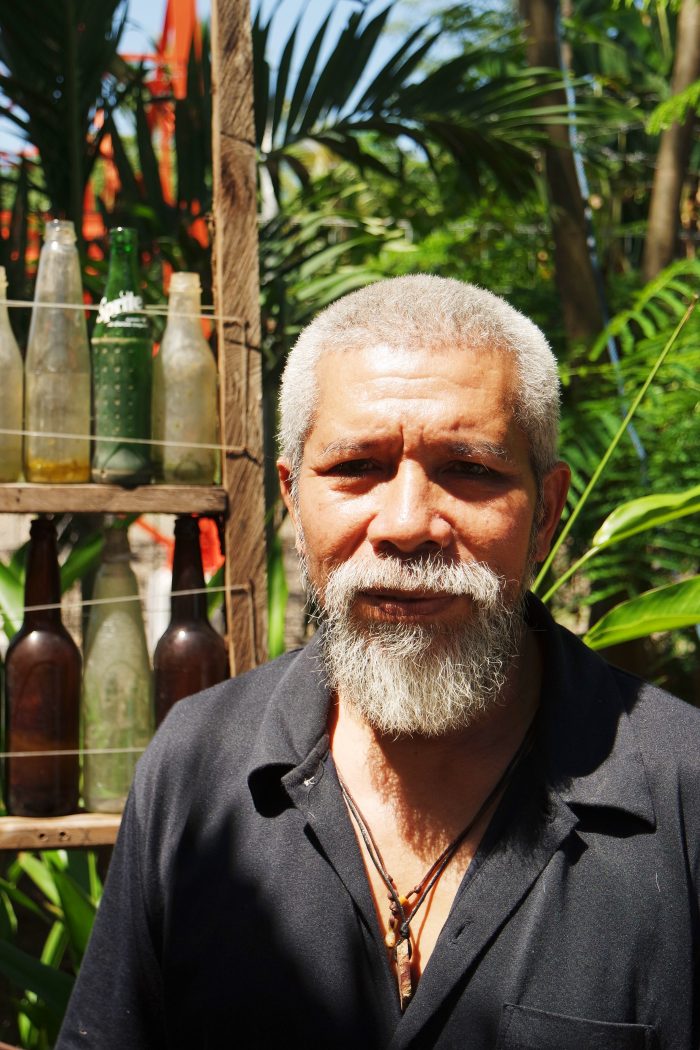 Papa Oli and Mama Gita used their own land, built everything slowly with their own money, and they gathered book donors from their relatives. Taman Daun's natural concept also provides a relaxing ambiance for children because they knew children get so much pressure from schools; get a strict education such as memorizing or answer questions academically. Taman Daun also provides creative activities to emerge and stimulate other part of children's brain, or simply to let them to just have fun. Children can also enjoy reading things they don't get from school such as folklore, craft books, history of many countries in the world, fun science, etc. Taman Daun has a dream: to provide a million books for Lembata. As for now, they have received about 4.000 books and they also have distributed the books to 3 other branches. Those branches were collaborated with others (some are under different names), inspired by the noble vision of Papa Oli has.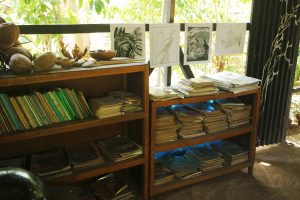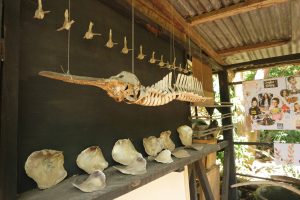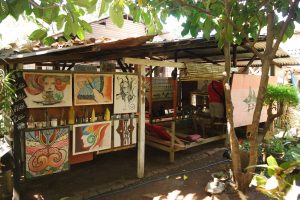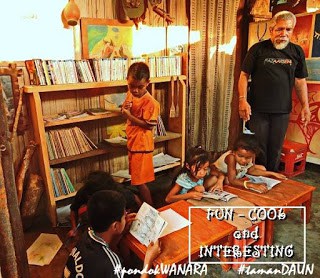 Taman Daun also has so many beautiful spots, indoor and outdoor. Children really love spending time outdoors. I also noticed that children even visit Taman Daun right after school when the school uniform is still put on. They will spend a quite short time to play then they will go home to change clothes before they come back again to read, to play, or to finish their homework.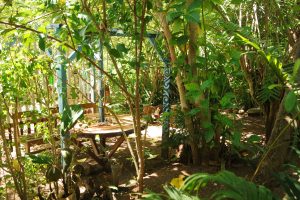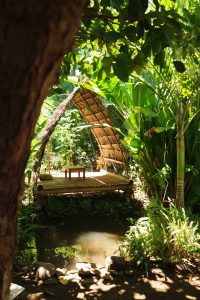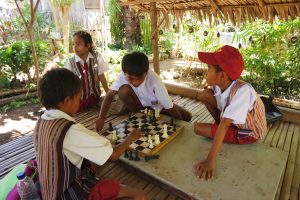 As the title said, it's also a playground for adults to have fun in a different way. Messi and I enjoyed spending quality time; talking about change, world, children, ancient belief of Lamaholot people, the whale-hunting tradition, and sooo many more topics. We discussed it altogether with Papa Oli, Mama Gita, Bang Adjie, Kak Nancy, and sometimes, Papa Oli's youngest daughter, Maris. We talked about it in a way that I found it was so refreshing, amazing, completely from a different point of view. One of them is about the whale-hunting tradition of Lamalera.
Lamalera is located in the southern part of Lembata. During May to October, whales migrate passing the sea area near their village. I am an animal lover and I truly deeply passionately (lol) disrespect or sometimes hate people who abuse or kill animals. I have heard about the whale-hunting tradition from several years ago and Bang Adjie invited me to come to Lembata when the ceremony is held. I said yes but I actually didn't want to see it lol. Since it's a tradition, I knew I should respect it and I can't do anything to change it so I better pull to one side. However, our afternoon talk about this tradition with Papa Oli, Mama Gita and Bang Adjie, opened my eyes and made me realize that there are always 2 sides of a coin.
I hope I can re-explain it with pictures taken by Arnold Simanjuntak.
Blessings From The Sea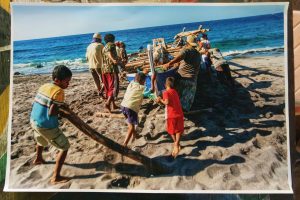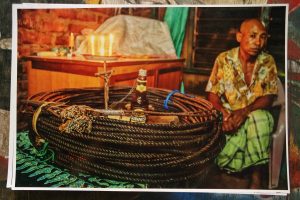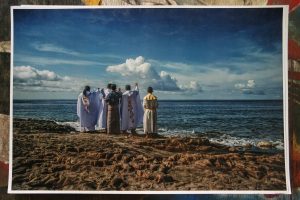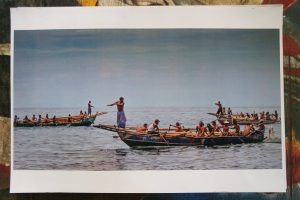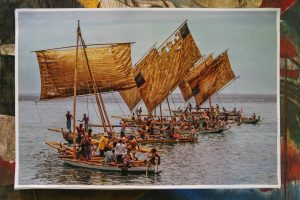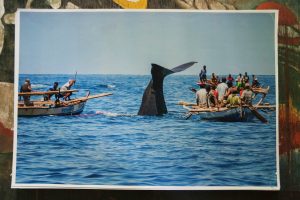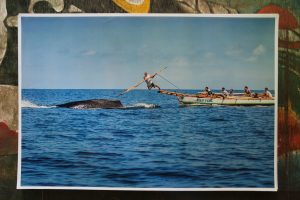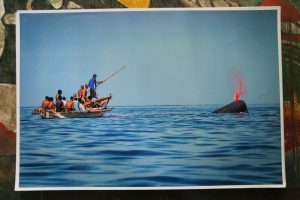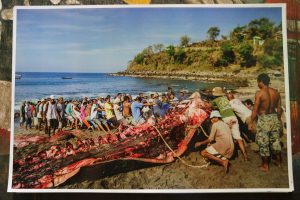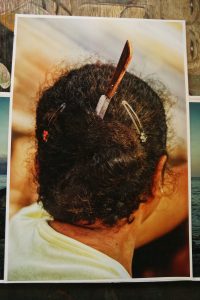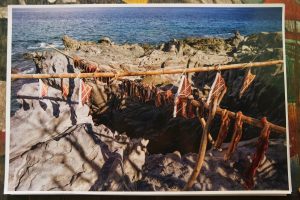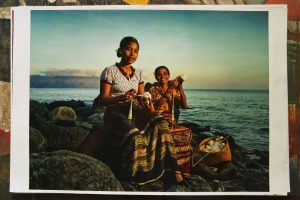 Get the local wisdom?
One more wonder of Taman Daun xD!! Visitors can also try tenun. Indonesia has so many places which produce tenun and each tenun from a place is different to another. Since Papa Oli and Mama Gita are Lamalera people, their style of tenun is also influenced by Lamalera thing: whale.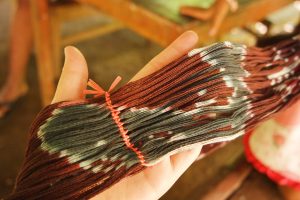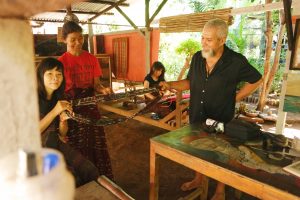 Messi and I gave it a try and omigosh it was quite hard! Well, tenun with the machine isn't that hard as long as we get used to the pattern but what I describe as hard is the whole process! From harvesting the cotton, dyeing process, into a ready-to-wear fabric! Mama Gita is an expert in this. She has been producing tenun from she was young and now she also teaches visitors to finish their own tenun. She also creates some for sale, Messi bought one and she loved it!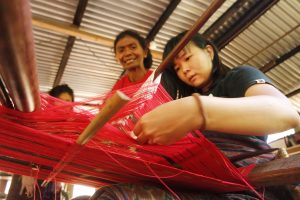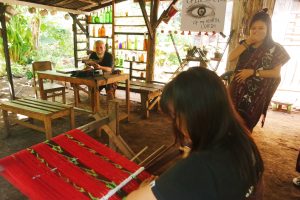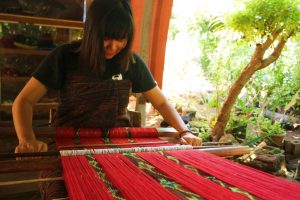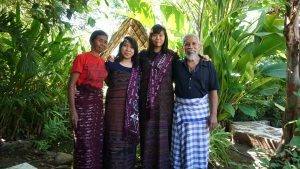 Days that Messi and I spent in Taman Daun were good. We were amazed by the kindness of Papa Oli, Mama Gita, and the whole family! We knew we were so lucky to have the opportunity to know them; thank you Bang Adjie, thank you universe.
As I heard from Bang Adjie, not everybody likes Papa Oli and his Taman Daun. Some are envious or even dislike with no clear reason. Well, there are always haters 🙂 Papa Oli and Mama Gita work in silence. On its 30th anniversary, all they want isn't to have a bigger and a more materialistic Taman Daun. They just simply wish to receive 996.000 more books for children in Lembata, or maybe, NTT. Will you be a part of their dream?
Here is the address in case you are moved to send reading books, drawing books, stationery, school supplies and other related gifts for the children in Lembata.
Taman Daun / Taman Baca Anak
RT 005 RW 002
Kelurahan Lewoleba, Kecamatan Nubatukan
Kabupaten Lembata, NTT
Contact Person: (+62)822.4758.0547 — Goris Ubas (Papa Oli)
There is also a relative of Papa Oli who also has the same spirit and he fights for Kupang area while helping Papa Oli taking care social net marketing of Taman Daun.
You can also send the book to him (+62)813.385.394.34 (John, S.J)
http://tamandaun.blogspot.co.id
Please help us spread this kindness, Thank you!