Hello from Tangerang!
It's been three weeks since I got back home this month and I want to tell you about my second home in Bali, Ubud.
Well, I stayed in Ubud since March 13th until April 5th 2017. I planned to stay in Ubud for months but things went out of plan! I ran out of money (lost control there lol) and I couldn't find a suitable job. I also missed crafting so much, so, yeah. I have told you in earlier post why I chose Ubud but actually Ubud is much much much more than that! I haven't even explored everything cool in Ubud but here is compilation about it.
ATTRACTIONS
Goa Gajah
Mostly there are some stone ruins, a bathing place and a cave to meditate. I had to hire a local guide to know more about it. Unluckily, the tourists on that day aren't from English-language countries and I couldn't listen to it for free lol.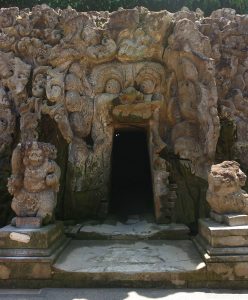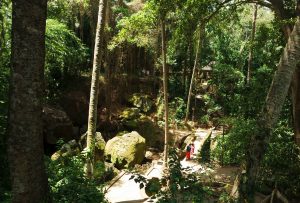 Tegenungan Waterfall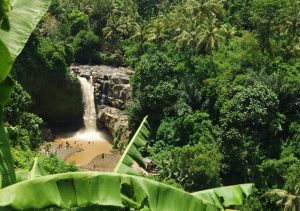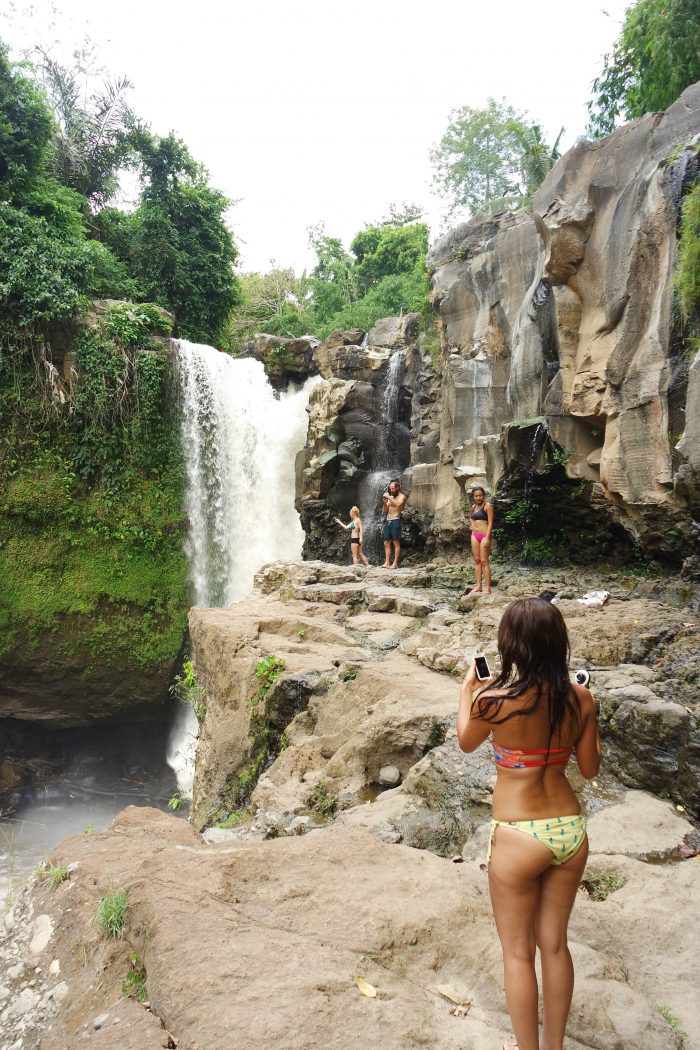 Tegalalang Terrace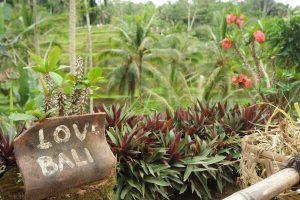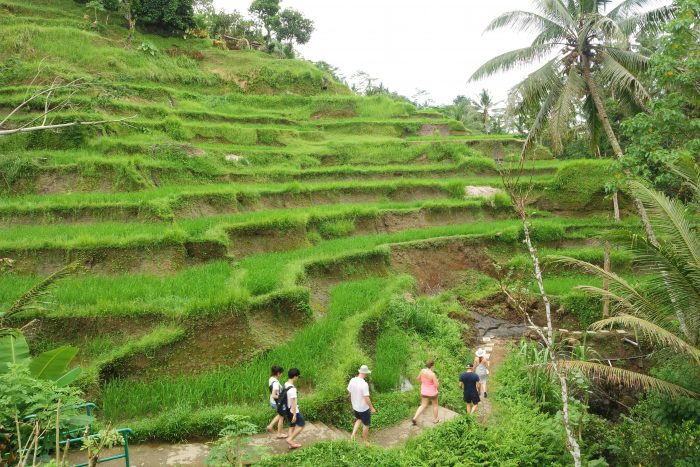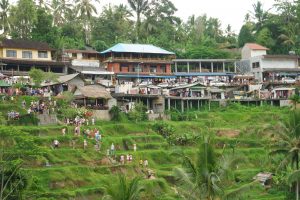 But I read a book, Bali is outstanding for the irrigation system the people built even from the 9th century. The scheme is complex and clever because water is very important for Balinese; well water is important for everyone but Bali really take the irrigation system to the next level. Let me quote articles from Wikipedia xD
Subak is a traditional ecologically sustainable irrigation system that binds Balinese agrarian society together within the village's Bale Banjar community center and Balinese Temples. The water managements is under the authority of the priests in water temples, who practice Tri Hita Karana Philosophy, a self-described relationship between humans, the earth and the gods. Tri Hita Karana draws together the realm of spirit, the human world and nature. The overall subak system exemplifies this philosophical principle. Water temple rituals promote a harmonious relationship between people and their environment through the active engagement of people with ritual concepts that emphasize dependence on the life-sustaining forces of the natural world. Rice is seen as the gift of god, and the subak system is part of temple culture.
Here are famous places that I actually never visited xD
Monkey Forest
Just like Sangeh, this place is full of monkeys. You need to pay entrance fee for 50k for adults.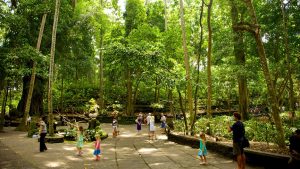 Museum of Antonio Blanco
A very unique artist named Antonio Blanco captured traditional Balinese women who were half naked in everyday life.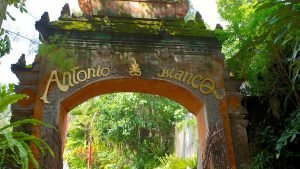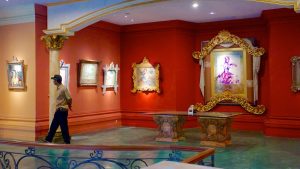 My friend, Monica went there and she said it was nice seeing those paintings.
Bukit Campuhan
Just a hill which is famous as morning jog spot. If only I were a morning person -.-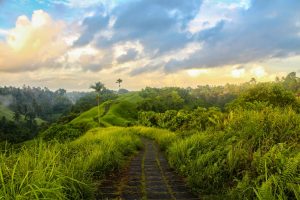 HANDCRAFTED PRODUCTS
You can see so many souvenir shops along the roads but the items there are a bit pricey. If you want to buy things in bulk, you can go ahead to the way of Tegalalang. Soooooo many shops on the side road and most of them made by its own crafters. So the shops are more like the crafters' gallery you know.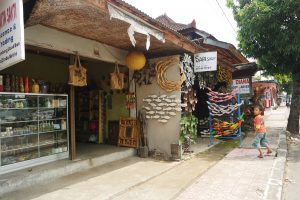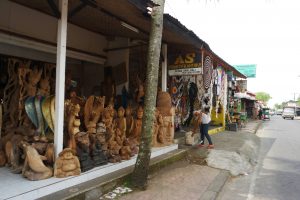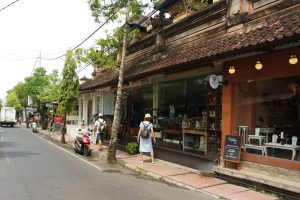 TRADITIONAL ARCHITECTURES
Most of the neighborhood looks so traditional. For example, the place where Monica's staying or my hostel at Ode Hostel (on Monkey Forest Rd.); generally it looks so Balinese. The architectural layout or designs although the room inside isn't that traditional.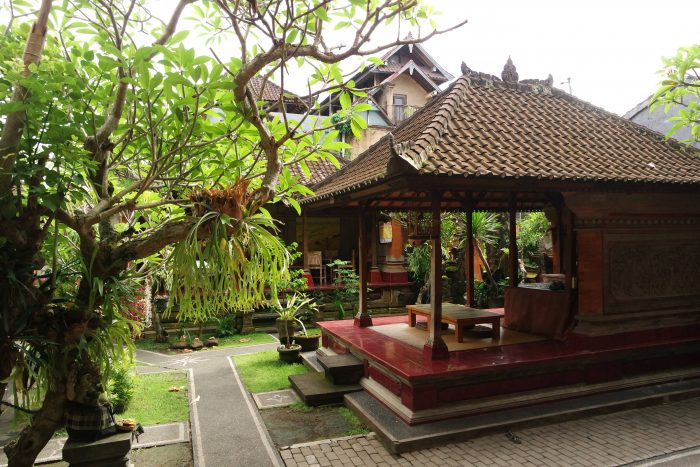 MODERN LOOK
The modern look is contributed by the shops/bars/restaurants you see along the famous streets and places in Ubud. You can also see shops you also meet in Jakarta like Fipper, Breadline, Wakai, etc. However, don't expect to eat KFC, McDonalds, or Hoka Hoka Bento here. They are prohibited.

PLACES TO EAT
I don't spend much money in this section but what I can say is that Ubud has so many tempting restaurants. Restaurants, cafes or bars here are so nicely decorated and I really really wanted to try eating something expensive but…couldn't afford them much. Anyway, so many vegan restaurants here because I heard vegan has been such a popular lifestyle among foreigners; and I still wonder why vegan food is much more expensive since it only has vegetables in it T_T.
You can also watch movies together with other customers in these following restaurants: Blackbeach, Alchemy, Paradiso, Roam. You can see the movie schedule by checking on the web or simply take the flyer there. I have tried to watch twice in Blackbeach and Paradiso. It was a nice experience.
Monica and I watched French movie in Blackbeach and so sorry Blackbeach, we only ordered arak (15k) and wedang jahe (7k) LOL!!! Cheapest cinema ever! It was quite different in Paradiso, customers should pay 50k to get the ticket while you can also use it to buy food inside.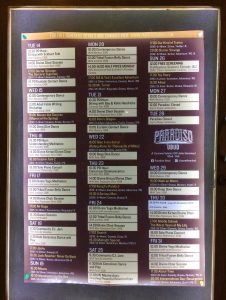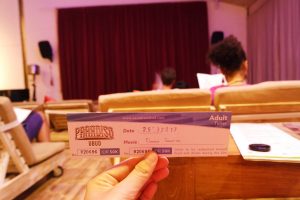 I went there with my new friend from Czech Republic, Lenka. I use the money I spent to buy something cheap, which was below 50k, so I didn't have to pay more. I chose Granola thing soup (something with Granola and fruits). Lenka asked why I ordered breakfast menu. Sh*t I didn't even know it was breakfast menu, I only chose it because it was cheap lol! With so much pride, I answered: "I want to eat light."
We watched Doctor Strange and it was niiiiiiceeeeeeee….! Paradiso is so cool.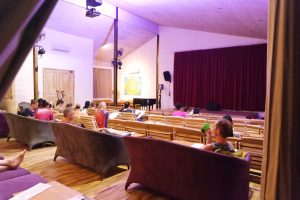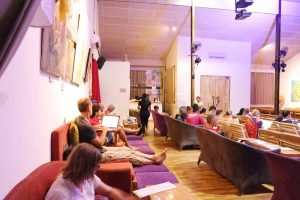 COWORKING SPACES
So many long-term travelers from all over the world come to Bali and I don't really know but I saw so many people working in Bali. Some of them use 1 laptop and I even saw a guy who brought 2 laptops and did things with music editing, I wasn't sure. So many digital nomads these days and they need a place with good ambiance and strong wi-fi.
While I was in Ubud I mostly went to Onion Coworking Space, it's donation based and so friendly!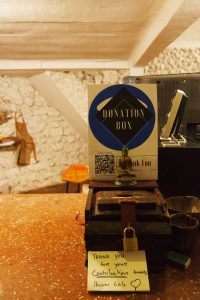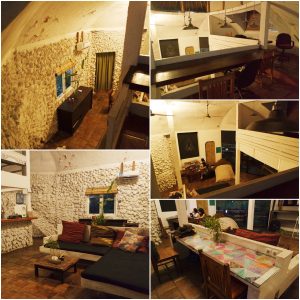 I was in Onion during my hard day, thankfully only 2 people were there since it was Saturday lol. Here I found a book that seem could help me.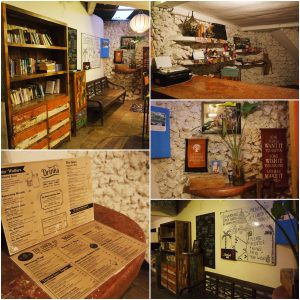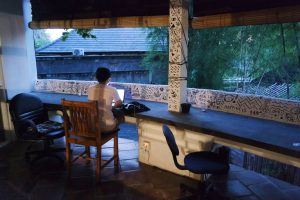 There are still 2 more famous co-working space in Ubud, they are Hubud and Outpost. They are expensive but somehow so many people go there because connection is also a good investment. For example, my friend Monica, she got jobs in Ubud from people she met in co-working space. It's a good opportunity!
I never been to Hubud but I visited Outpost. Frankly saying, I love Outpost.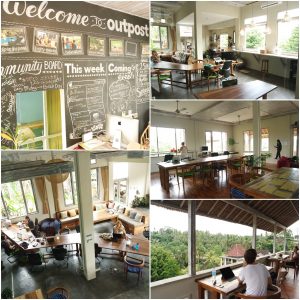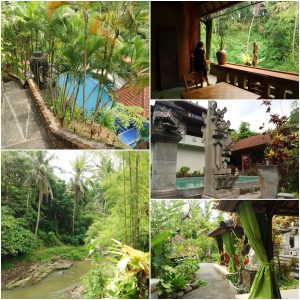 PLACES TO STAY
I stayed in 2 different hostels when first arrived there. As usual, I swiped leeeeeft on the price range section and I saw "Halaman Depan" Hostel! Only 35k per night!! But sorry I must say the place isn't that good (well, worth it for that cheap price actually). Later I moved to Ode Hostel on Monkey Forest Road, the ambiance there was nice and near Ubud Center so, I liked it.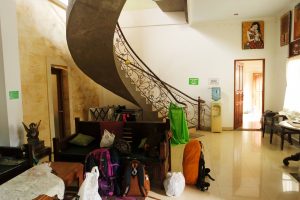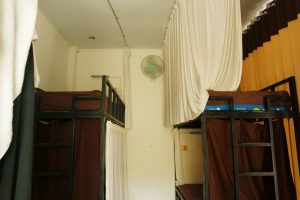 EPILOG
When I was in Ubud I din't explore much because I gotta do part time job which was helping Monica to make menu board for an Gelato Shop. Anyway, the gelato was very delicious! Drop a visit to Ice Dream when you go to Ubud Market or Monkey Forest!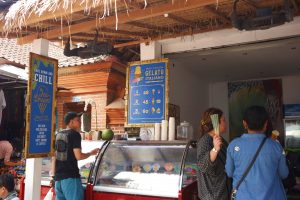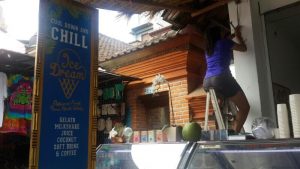 I also had a chance to visit some less crowded place in Bangli and Padang Bai.
I went to Dusun Kuning Waterfall and oh my goodness, quite scary because I had to trek for about 15 mins to get to the waterfall. It was just me at the waterfall, lol! I suddenly remember the moments I had with friends at Batu Mentas, Belitung. If I were with my friends, it would be fun.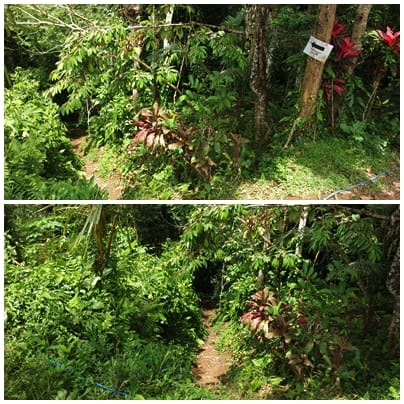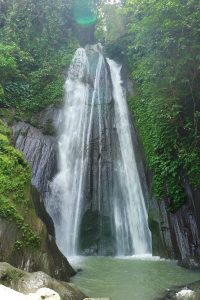 Then I went to Bloolagoon in Padang Bai. Andri told me about this place and the most exciting part was I could do snorkeling from the beach. I bought mask and snorkel in 2015 and never used it wtf! So happy to finally use them.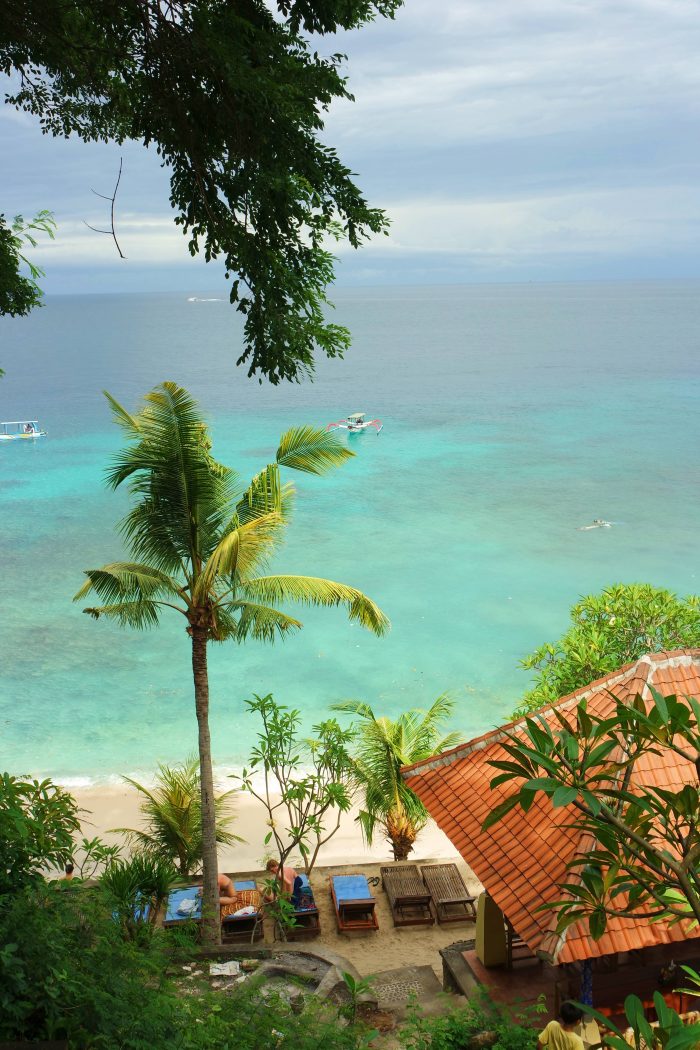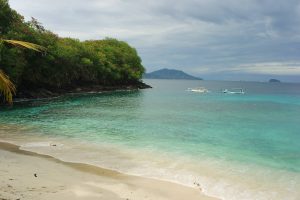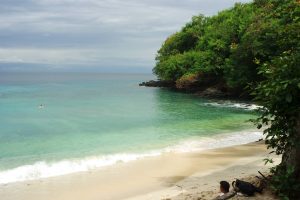 I could only swim for about 20 mins until a storm came. Overall, I love all the experience that day.
---
Anyway, this is the end of Bali story. I hope you like it! See ya.